Episodes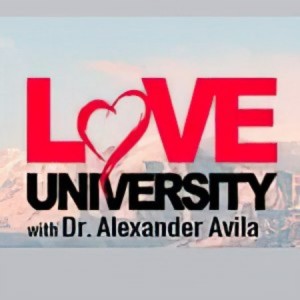 Friday Jun 09, 2023
Friday Jun 09, 2023
Are you proud of your talent and do you show it to the  world? Maybe you don't quite believe in your ability and you keep yourself from shining. Even worse, perhaps you're envious of others who are living the life you wished you could have.  In our latest Love University podcast, we discovered some answers to these questions from our delightful guest, Cara Mentzel. Cara is an acclaimed author (Voice Lessons, Loud Mouse), as well as the sister of Idina Menzel, "The Queen of Broadway" who has voiced iconic songs like "Let it Go" from Frozen. Here's what we learned from Cara's insightful adult and children's books, as well as from her life experiences with her famous sister, Idina:

*Children don't have to have a thing.  When Cara was growing up, her older sister, Idina, was already demonstrating her great singing talent. They asked Cara if she could sing ("yes, but not like her") and what she wanted to do in her life (something big like her sister?).  As an adult, Cara advises parents to let children develop interests, talents, and loves at their own pace. They don't have to have one "thing" they want to do when they grow up. They can try different things; experiment, blossom, and grow—life is an ever-changing puzzle of development and it's important to be flexible and open (Cara became a children's author in her middle years).
*Curiosity killed the cat, but satisfaction brought it back.   One of the most important traits to develop is curiosity.  When you are curious about other people, you can make new friends.  When you are curious about life, you can learn valuable things.  Always be curious, learning, growing, and experiencing—it's the best way to live.
*Don't be afraid to be too big.  In her charming children's book, Loud Mouse (co-authored with her sister Idina), Cara describes a little mouse who physically grows big when she sings. She grows so big that she knocks other kindergarteners down with her loud voice. She becomes afraid of her talent, but her little sister "Lee" (Cara) says to her "Do you think a star can choose not to shine?" Then her sister, Dee (the little mouse) sings "with a full heart… with my whiskers out proud. I sing it big, I sing it… loud." In the same way, recognize and embrace your gift or talent from the Higher Nature (God, spirit, nature) and don't be afraid to be "too big." Maybe your gift is science, business, teaching, counseling, writing, speaking, working with your hands, persuading, entertaining, or being a caretaker (great parent). Whatever your  talent is, use it for the good of humanity .You were meant to be big in your own way and share your love and gift with the world.
*Sisterly Love can teach us universal love.  Cara said that one of her greatest pleasures in life is seeing her sister sing before a rapt audience as she shares the magic of her otherworldly singing.  People ask Cara if she has ever been jealous or envious of her sister. She answers: "What would I like better—to have my sister's talent, or to be the sister who witnesses and feels pride at her sister's accomplishments?" The answer, she says, is "to experience the joy of her sister's talent and success."  Cara also describes how her relationship with her sister reminds her of the beautiful Aspen trees.  Although they look like individual trees above ground, underneath, their roots are all connected, like one organism. In the same way, we are all individuals, but we are also one united support system. We are a connected unit of human consciousness and love.
*Let it Go. As her sister, Idina, sings in the beautiful theme song for Frozen, it's important to let go of the past—our regrets, mistakes, and so-called failures. You may have been through a divorce, loss of finances, health, friendships, or lifestyle. Yet, it's important to recognize that there are no wrong answers in life—it's just you connecting with yourself, the world, and your Higher Nature. As the "Let it go" song says, "To test the limits and break through… I'm free."
When you have a talent, you can feel blessed, but you may also feel vulnerable. People may say things about you that are not always positive. Yet, if you allow your talent to shine brightly, you will understand that the world needs you. By understanding the vulnerability that comes with strength, you can liberate yourself to be who you truly are. Sing and let your song resonate throughout the world.