Episodes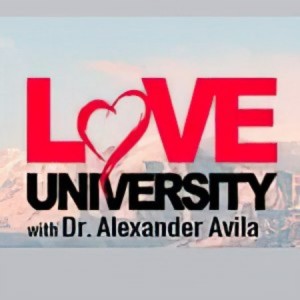 Thursday Sep 21, 2023
Thursday Sep 21, 2023
Are you carrying emotional hurts, fears, and sadness from the past that are limiting your joy and success?  If so, you can rid yourself of these self-defeating thoughts and feelings and live a free and joyous life.  On Love University podcast, we learned lessons of self-love, forgiveness, and gratitude from Jackeline Cacho, former Ms. Peru contestant, Emmy-nominated TV personality, bestselling author ("My Emotional Backpack", "Mi Mochila Emocional"), and international inspirational speaker. After surviving a devastating three car rollover accident, Jackeline suffered from anxiety attacks for seven years until she learned to master her fear and awaken her inner power. Here's what Jackeline shared with us:
*Everything happens for a reason; be grateful for what you have. When she saw her father's dead body (heart attack) at age 17, she was devastated. For many years, she blamed herself for not going to him earlier to save him. But now she realizes that she could not have done anything differently and she needed to forgive herself. She realized that her father is proud of her now, looking upon her from a higher place, as she achieves great things and inspires others.
*Latino women need to speak up.  Jackeline explains how many Latino women remain silent and try to keep a happy face even though they are suffering inside.  The key, says Jackeline, is for all women to awaken their inner power and express their authentic selves. An enlightened woman can achieve her unique destiny while influencing her husband/love partner and children to reach their fullest potential.
*Relationships may not be perfect, but love is.  After 17 years of marriage, Jackeline says she is still deeply in love with her husband. She counsels other couples to recognize that love is the equalizing force in all successful relationships. Although disagreements and problems may arise in the relationship, it's true that a strong bond of unconditional love will get couples through any obstacle.
After overcoming heartbreak and loss to achieve a life of success and contribution, Jackeline sums up her philosophy with the phrase: "We are all divine creatures—we need to believe in something divine." When she was in the horrendous car accident, she says a mysterious man came out of nowhere to counsel her, and then he disappeared. No one else saw him, but she is sure he was an "angel," who was there to help her (she emerged without any physical injuries). As Jackeline advises, we as human beings can all work together to be each other's angels; we can be loving agents of change to create a better, more beautiful, and loving world.