Episodes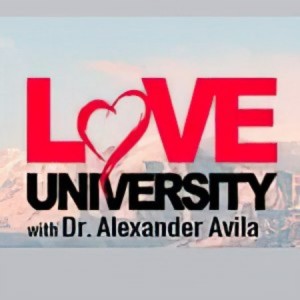 Friday Sep 16, 2022
Friday Sep 16, 2022
You have a tremendous power near your navel. It is called the Hara. In Eastern philosophy and martial arts, the Hara is the physical point that exists two inches below your navel. When a martial artist is centered in their Hara, they cannot be pushed or pulled by another person, no matter how strong the other individual is. They have tremendous one-point focus. In today's Love University Podcast, you will learn how to apply the power of the Hara—one point focus—to maintain your mental balance and actualize your dreams.  Here's what you can do:
*Ask yourself: What's the most important thing I need to do today that would make everything else unnecessary?  By narrowing your focus to your ultimate goal for the day—family, health, spiritual development, creativity—everything else will tend to fall into place. When you do the most important thing first, you will find that you have enough time and energy to take care of the practical and mundane aspects of life.
*Redirect your Distractions:  Distractions fill your world—technology, people, things to do, your own thoughts.  To maintain a one-point focus, you need to be aware of, and eliminate, distractions.  In a pad or notebook, write down all the things that distract you and drain your energy on a daily basis, whether it's social media, needless texts, or negative news. Also, write down how you feel when you participate in the distracting activity (sad, worried, stressed). Now, redirect your attention and focus to the things that really matter and make a positive difference in your life—career/work, family, spiritual and physical health, and improving your state of mind. When you do this, you will be more focused, peaceful and powerful.
*Practice the Million Mile Palm:  In this exercise, you will stand with your right foot in front, and feet shoulder length apart. You will inhale deeply and bring your right palm up to your face (palm facing to the left). Now imagine that there is a solid brick next to your face that represents the most serious problem or obstacle that stands in the way to achieving your ultimate goal. Perhaps, you see the barrier as being a lack of money, ability, education, and so forth. Next, as you exhale, quickly and explosively extend your palm straight out as far as you can reach as if you were pushing through the brick, one million miles into the distance. As you do this, visualize that you have already accomplished your goal, whether it's a great relationship, amazing job, impeccable health, or sterling financial/career success.. Rejoice. You have broken through the mental barrier that has kept you from fulfilling your dream by going one million miles beyond it.
It's true. With practice and perseverance, you can develop the pure power of unadulterated one-point Hara focus.  With an inalterable focus and disciplined mind, you will blast beyond the barriers and obstacles of life to reach your ultimate destination: Love, success, and happiness.