Episodes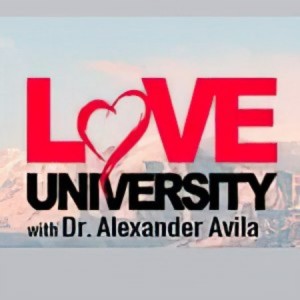 Tuesday Feb 14, 2023
Tuesday Feb 14, 2023
Has fear and worry ever got ahold of you and made you suffer? If so, you were under the influence of the Fear Thought Demon. The Fear Thought Demon consists of self-defeating and exaggerated thoughts of fear: "Watch out, you will lose your money, relationships, health, and even your life."  These attacking thoughts constantly warn you that bad things will happen to you in the future, and you will lose everything you value. The good news is that there is a way to get rid of the Fear Thought Demon once and for all. On our latest Love University podcast, we became acquainted with some powerful ways to vanquish unnecessary and exaggerated thoughts of fear and worry. Here's what we learned:
*Rewire Your Brain From Rabbit to Lion. In nature, the lion is powerful and confident; it sleeps a lot because it has little to fear from other animals. The rabbit, on the other hand, is on every animal's menu. They are always scurrying around, fearful they will be eaten at a moment's notice. If you're like a fearful rabbit, you can become a fearless lion by associating pleasant and relaxed feelings with things that make you afraid, worried, or stressed. For example, let's say you feel overly stressed at work and you fear you can't do all of the work you need to do. If that's the case, then try this exercise: Close your eyes, take a deep breath, and imagine that you are in a beautiful relaxed place in nature; perhaps a beach, mountain, or lake. Mentally breathe in the fresh air, experience the sounds, sights, and feelings of the gorgeous locale. By doing this, you will relax your mind. In place of anxious and worried thoughts, you will associate pleasant, relaxed feelings with your workplace. You will be happier and more productive as a result.  
*Play to Your Strength.  The theory of multiple intelligences tells us that individuals can have different kinds of talents (musical, kinesthetic, verbal, interpersonal, etc.).  You probably have one strong talent or ability that you can utilize to build your confidence and reduce your fear, worry, and anxiety.  Perhaps, you're good with words, numbers, people, ideas, or machines. Whatever your greatest ability is, focus on developing and applying it as much as possible. In fact, your aim should be to spend about 80% of your time using your gift/talent and only 20% of your time (or less) on improving your areas of weakness.  However, chances are you may be spending a lot more time working on your weaker areas and not enough time on building up your strength—this leaves you weakened and fills you with doubt and anxiety. Focus this week on devoting a majority of your time working on your strength, and you will feel more relaxed and capable as a result.
*Use Fear as an Ally.  Realize that rational (realistic) fear can be a valuable asset.  Evolutionary psychology tells us that we developed the fight or flight mechanism as a protective mechanism. When we face danger, our bodies are filled with chemicals that enhance our ability to run or fight so we can survive. Therefore, some fear can be adaptive and helpful ("don't walk in a dark alley alone at night in a dangerous area"). Yet many people exaggerate fear and are afraid or anxious even in situations where there is very low (or no) risk of danger or harm. Therefore, your task is to use reasonable fear and caution as a friend ("get insurance, watch your diet, be wary of emotionally dangerous people"), while still maintaining your faith, confidence, and optimism. When fear starts to become the Fear Thought Demon (irrational and excessive fear), you can put a stop to it and say: "Fear Thought Demon, go away; you don't control me anymore. I am confident, loving, and at peace. I am perfectly fine and happy without you."
Love University students, go out this week, and declare a Fear Thought Demon free week.  You will act like a lion, play to your strengths, and use rational fear as an ally for protection when necessary.  Along the way, you will counteract excessive thoughts of fear with thoughts of success, power, and happiness. Make your mind a reservoir of positivity, and you will never have anything to fear. Only light, love, and joy will fill your mind and heart—enjoy every day, every hour, and every minute of your life with the fullest appreciation and contentment.