Episodes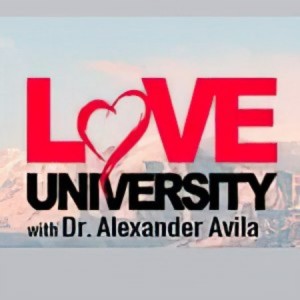 Saturday Jul 01, 2023
Saturday Jul 01, 2023
Do you feel like you can't get to the next level of your success?  Are obstacles, both internal and external, stopping you from achieving your dreams. If that's the case, then get ready for a powerful mindshift into excellence and authentic power.  On Love University podcast, we learned valuable lessons of ultimate success from Sean Kanan, Emmy® winning producer, and talented actor and writer. Sean was the original "Bad Boy of Karate (Karate Kid III) and now appears on the hit series Cobra Kai.  In his new role as "sensei of your mind," teacher and author, Sean (wayofthecobra.com), reveals some of the most powerful "mind hacks" to get you on the path to ultimate joy, success, and fulfillment. Here's what we learned:
*Become a Cobra: When you become a Cobra, you are the most authentic, self-aware, empathetic, strong, and confident human being you can possibly be. COBRA is an acronym that stands for Character, Optimization (taking the best action), Balance, Respect, and Abundance. When you focus on developing these qualities, the sky is the limit for your joy and success.
*Welcome to the Kumite. In martial arts, Kumite stands for sparring as well as an epic battle. In the Kumite of your mind, your greatest opponent is "You" (your self-defeating thoughts: "I'm not good enough," etc.). You can defeat the negative thought energies by being truly authentic, treating yourself and others with respect, and loving without expectation.
*Choose Your Hard.  Sean tells us that you need to choose the hard thing that will bring you the greatest results and contentment.  Marriage is hard, but so is divorce (even harder).  Working out is hard, but so is being overweight (even harder). Therefore, you need to decide if you want a little right pain now (eating junk food) and a lifetime of pleasure (great health), or a little pleasure now (tasty junk snack) or a lifetime of pleasure (poor health). The choice is clear; choose the little right pain now for a lifetime of pleasure.
*Live by Your Creed. A creed is a set of beliefs or aims which guide your actions. In the Kenpo Karate creed, it says, "I come to you with only empty hands, I have no weapons. But should I be forced to defend myself, my principles, or my honor, should it be a matter of life or death, of right or wrong, then here are my weapons, Karate, empty hands."  Sean's creed is to know who you are and never compromise your character.  Don't act like someone you're not just to please others. Your greatest gift to the world is to be who you are and shine your talent and love for all to experience.  
During his interview on Love University, Sean explained how he almost lost his life as he was beginning work in Karate Kid III due to a medical emergency. From that near-death experience, he learned the value of humbleness, gratefulness, and never quitting. One of the most powerful lessons Sean learned was "You're enough."  By embracing your strengths and recognizing your weaknesses, you realize that you don't have to be anything different than who you already are. You don't have to push, chase, or convince anyone to do anything. You can simply be your truest nature and extend your loving energy to the world.  That is your greatest joy and your greatest reward.