Episodes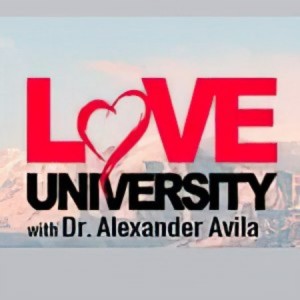 Wednesday Aug 02, 2023
Wednesday Aug 02, 2023
Would you like to turn your life into a miracle and achieve your dreams?  Now you can by applying certain time-tested secrets for living your best life.  On our latest Love University podcast, Dr. Avila answers reader's most pressing questions about how to enjoy the Invincible Life—how to triumph despite the obstacles. Here's what we learned:
*Shake with hands of love. Imagine that your hands have hundreds of individual loving minds.  When you shake someone's hand, imagine that you're transferring loving energy to them as they do the same for you.
*Practice "Right Emotional Memory."  You may make the mistake of exaggerating the pleasure you received from a bad habit/action (eating too much), while forgetting the pain (feeling bloated; gaining weight). In this new approach you will remember the pain from self-defeating actions (binging on junk food), and you will seek the pleasure of right action (eating healthy and exercising).  
*Stop fearing the relaxation you seek. You may assume that tension is a power that keeps your life together (overscheduling; overuse of technology). Because you're afraid to be bored or nonproductive, you don't allow yourself to experience true relaxation and peace of mind. The solution is to take a "technology fast"—put away your devices for a while. Observe your feelings when you're just sitting still. Part of your mind—self-defeating—will pressure you into checking your devices ("You're missing something important"). Refuse the temptation and choose the right course of relaxation and peace—you will be happier and more productive in the long run.
*Realize the true battle is not "You against the World."  When you feel discouraged or discontented you may think that you're fighting against the world and other people ("I can't get what I want"). In reality, it's not "you against the world." It's You (Invincible Mind: "You can do it") versus you (self-defeating mind: "You're not good enough").  The solution is to live from your Invincible Mind—the part of you that is at a high psychological level and can't be harmed by the negativity of the world or your own mind. Think of your Invincible Mind like a pure waterfall of clear water that wipes away all of the dirt and negativity of the self-defeating mind. Now you are ready to live with full joy and creativity.
*To find someone to love, externalize your inner love. You may have chased other people and been frustrated that you can't find someone to love (who loves you). Perhaps, you feel lonely and jump at the first person who seems somewhat compatible, only to find that you're getting yourself into another relationship mess. The answer is to love yourself and your Don (God/nature given talent). Take a break from socializing and trying to meet a special someone. Instead, focus on loving yourself and enjoying life. Practice your talent, enjoy a new hobby, engage in a spiritual or meditative practice; spend quality time with close, long-term supportive friends and family members (including dogs and children). One quick way to eradicate loneliness in your mind is to help other lonely and needy people (volunteer, contribute). It's true: The more you extend love to others without expectation, the more your loneliness will vanish. and love in many forms will take its place in your life.
The answers to life's most perplexing questions are simple: Love yourself, love others, and love a Higher Nature (God, spirit, nature). On a daily basis, extend loving energy to yourself and others, build up your Invincible Mind while reducing the self-defeating mind, and take time to nurture yourself and enjoy times of peace and relaxation. If you do these things, you will be on your way to living a miraculous and beautiful life that leaves a lasting legacy for all to see.